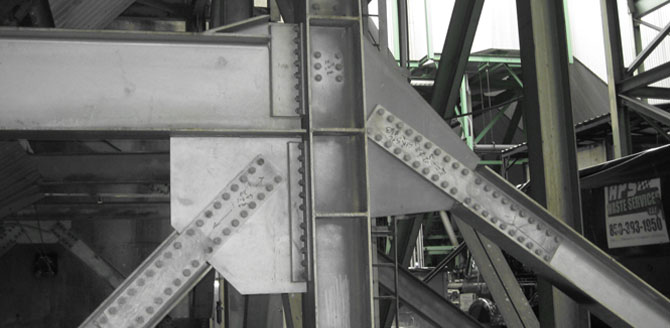 Continuing Education
Arc International provides a wide variety of continuing education opportunities for the steel industry.  The content of the seminars is designed to provide in-depth technical information that can be applied to practical design-office problems.  Many of the topics are not covered in codes and specifications; therefore, much the course material is based on engineering principles, published research, and standard industry practice.
Practical solutions are the focus, but in many cases, test results and background information is presented to show the accuracy and limitations of the design equations. ARC International is an approved continuing education provider in Florida, Indiana, New York and North Carolina.
Seminars
Learn more about our Design Issues for Industrial Structures Seminar in Birmingham on February 7, 2014. This seminar will present two separate design issues related to the design of industrial structures. The first half of the seminar, presented by Dr. William Thornton of Cives Engineering Corporation, will be devoted to connection design. The second presenter will be John Rolfes of Computerized Structural Design, who will discuss seismic design of industrial structures.
Arc International has developed seminars on all aspects of connection design, and is in the process of developing the following seminars:
Structural Stability of Steel Members
Design of Steel Industrial Structures
Reinforcement Design for Existing Steel Members
Design of Monorail Systems
The schedule will be updated as soon as dates are confirmed.  The seminars can also be presented on-site.  Inquire about on-site seminars at  at education@arcstructural.com.
Arc International also presents custom-made seminars on topics related to steel design.  Custom seminars have been developed on:
Connection Design for Industrial Structures
Connection Design for Metal Buildings
Inquire about custom-made seminars at education@arcstructural.com.
Webinars
Live webinars allow participants to interact with the instructor over an internet connection.  This allows the experience of a seminar without the travel costs.  To provide more scheduling flexibility, pre-recorded webinars will also be available. For pre-recorded webinars, interaction with the instructor is available via email.
Future webinars will be announced here.
Self-Study Courses
The course material and exam for self-study courses can be downloaded free of charge.  The completed exam is submitted to education@arcstructural.com and the proper payment is made online.  Upon successful completion of the exam, a certificate will be emailed to the student showing the proper number of credits.
Course material and other references can be used during the exam.  The passing score is 70%; however, if a passing grade is not earned on the first attempt, the exam can be resubmitted at no additional charge.  The exam must be completed within six months of the purchase date.
Future self-study courses will be announced here.